For close to 2 decades, Elpee has focused on the domain of document printing, and today it is a Managed Print Solution expert. The quality of it's solution, the flexibility of it's service and it's domain expertise, makes Elpee a trusted Managed Print Solution partner for it's clients. The number of high-quality printouts we have generated, bears testament to this fact.
Elpee has forged relationships with all major printer manufacturers, and with international OEM suppliers of consumables and spares.With these partnerships in the backend, Elpee has over 5,000 printers up and running in the front end.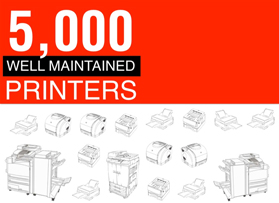 With this unique position, Elpee delivers value and lowers cost at every stage of the document printing process. Hence wherever it is that their clients have their operations, Elpee too has grown through branches and alliances across the country.